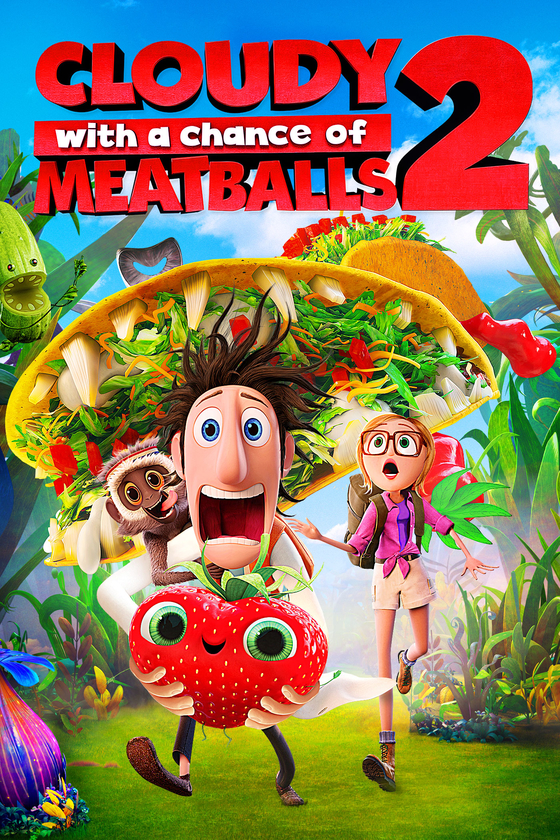 Movie Analysis:
Cloudy With a Chance of Meatballs 2
Rating: 2 out of 10 stars
Intro
This analysis is a spoiler-filled review. If you don't already know, my reviews that include spoilers are either for phenomenal movies that deserve analysis or movies that suck and invite ridicule.
This movie is one of those that is only good for poking fun at. Just because it's a sequel doesn't mean it should be cut some slack. If you don't have a decent idea, don't make a sequel. It's that simple.
Below is a thorough analysis of this disturbing kids movie. Where does the Soylent Green come in? Read on to find out.
Background
Cloudy With a Chance of Meatballs 2 was produced by Sony Pictures Animation and released in 2013. It fits into the genres of Adventure and Comedy.
The movie stars Bill Hader, Anna Faris, Will Forte, Andy Samberg, Neil Patrick Harris, Benjamin Bratt, Terry Crews, Kristen Schaal, and James Caan.
It is the sequel to Cloudy With a Chance of Meatballs. In the original movie, Flynn Lockwood creates the FLDSMDFR (Flint Lockwood Diatonic Super Mutating Dynamic Food Replicator) to create food from water. When it accidentally rockets into the sky, it begins to rain food.
This goes all wrong when the new food weather gets out of control. Flint Lockwood is forced to shut down the FLDSMDFR for good. Or so he thinks…
Apparently, he failed to shut it down forever. Thus, a sequel was born.
LAST WARNING: SPOILERS AHEAD!!!
Analysis
The movie begins with a flashback to young Flint Lockwood. He's a cute little kid with a head comprising almost half of his body. You can tell that's not normal because Cal Devereaux, another kid from the same movie, has a head that is a third of his body. How does poor little Flint even stand upright?
Anyway, it flashes back to a young Flint Lockwood fawning over his childhood idol, Chester V.
Chester V is the completely not evil scientist who inspired Flint. He was not mentioned in the first movie because…I guess it was cuter for Flint to be inspired by his mom. Nah, I'm kidding. They obviously hadn't thought up Chester V yet.
So Chester V is on television and lies about how he made his first invention as a teenager. Later on he tells Flint that his first invention was created when he was 3 years old, but let's not be concerned about that discrepancy.
They always pronounce his name like "Vee." That's weird if it's a Roman numeral, because you would say "Chester the fifth." If it's not a Roman numeral, that's also weird because I cannot think of a single person I have ever heard of with a last name of only one letter. I guess it's possible, just a little out-of-the-ordinary.
Perhaps the most amusing part of this movie is the way the characters say FLDSMDFR, pronouncing it as if it were a normal word instead of an acronym. To hear how it is pronounced, click here.
The characters include Flynn the scientist, Sam Sparks the meteorologist and love interest, Tim the dad, Brent McHale the reformed bully, Manny the Guatemalan cameraman, Earl Devereaux the policeman, and Steve the monkey.
Flint and his friends come up with this plan for a lab. Since they are unbelievably childish, they do cutesy drawings of themselves on a paper and label it Sparkswood. The dad apparently has no drawing skills because instead of drawing himself, he just writes his name.
Then Chester V (hologram version) shows up to announce that everyone must leave the island and stay in San Franjose, California while he and his Thinkquanauts initiate clean-up on the island.
After buffering, the hologram of Chester V gives Flint an offer to work for him, which Flint declines at first because of the plans for Sparkswood. (The holograms never buffer again in the movie.) Sam Sparks convinces him to take the offer, however.
Then we get a scene where all of Flint's friends supporting him. The shot includes some random bearded character who is apparently named Joe Towne. He's not a friend; he's just kind of awkwardly there.
He has no character development. He's just an extra, a professional photobomber apparently there to add to the comedy.
Next, the Chester V hologram contacts the real Chester V. And that makes it all too obvious that the creators don't understand how holograms work. They are supposed to be like projections, but this one is apparently sentient. In fact, none of Chester V's holograms act like actual holograms. His most impressive achievement was probably the creation of projections with minds of their own.
The inhabitants of Swallow Falls all move temporarily to San Franjose, California, where they start new jobs and lives. Our old friend Joe Towne turns out to be the new bus driver for Live Corp. There is an awkward instance where he breaks the fourth wall, smiling directly at the camera instead of at any person.
Live Corp is giant building shaped like a lightbulb. There we meet Barb, who is an…
–an orangutan with a human brain inside my ape brain…like a turducken!"

Barb
To me that seems like both animal abuse and a human rights violation. That poor innocent ape with combined brains…and where did they get the human brain?
Barb is an ape scientist with pink glittery nail polish, purple fur, purple eyes, and human-like hair. A disturbing combination, admittedly.
Flint gets a drink made of coffee with milk, and acts like the combo has literally just been invented by Live Corp. Come on Live Corp–is that the best you can do? The cup is all futuristic with its many edges, but all that's in it is coffee with milk.
Then there is an uncomfortable moment when Steve the monkey spits out his coffee and exclaims "hot!" A woman immediately flirts with him, saying "not too bad yourself, monkey." People flirting with animals is creepy. Period.
A running gag is that Flint's nose keeps getting stuck in doors. It was mildly amusing the first time, but after that, it was just annoying.
Just like in the first movie, when characters type, it looks like are slapping the keyboard repeatedly and as clumsily as possible. I wish I could type like that. It would be amusing.
After traveling in a futuristic elevator, Flint is dropped off in a cubicle. He immediately submits as many of his inventions as possible.
One of them could basically be a murder machine.
As soon as we see the flashback to when Flint tried the experiment, it shows a machine that shoves knives, forks, and spoons rapidly into his father Tim's mouth. That thing could have killed him! It obviously had no control. If it didn't stab him to death, than it certainly could have choked him to death.
Not too long afterwards, we get to see the vesting ceremony, where a promising scientist is chosen to be the next thinkquanaut and wear the much sought-after orange vest.
First, Chester announces that "Food Bar Version 8.0" will be available soon.
Then, in a very predictable turn-of-events, Flint is not chosen, but someone else who is also from an island, has unruly hair, and whose name happens to be Flint as well wins it instead.
And guess how he won? No, you won't be able to. He won with a car that runs on "cute."
Wait…what? Well, it is an animated family film, so whatever.
But then he opens the fuel tank and there is a cat in there. That is wrong on so many levels. More animal abuse.
The whole time, Chester V's hands are moving like clockwork–without stop, flowing constantly into new positions. It's mesmerizing.
Then Steve sets off Flint's celebration machine, which explodes with paint and glitter and causes the whole stadium to laugh at him.
Meanwhile, Chester V is worried because two squadrons of his thinkquanauts were killed by foodimals (living food) while looking for the FLDSMDFR for nefarious purposes. They are obviously not on the island for cleanup like they said they were.
A bunch of people were actually killed by these foodimals. That's really dark for a kids movie. Sure, they don't show it, but that doesn't mean it didn't happen. (If a tree falls in the forest and no one is there to hear it…)
But Chester's mostly worried because he's running out of alphabet letters to name his squadrons after. He decides their only option is to find someone who is simultaneously naïve and smart. Obviously Flint. After his celebration display at the vesting ceremony, that was super apparent.
Meanwhile, Flint is miserable and faceplants into his bed. His dad and Sam apparently assumed he would get the vest even though every single invention he's made has ended in some sort of failure or un-natural disaster. They think this even though there were hundreds of candidates who have been working at Life Corp for years, and Flint has only been working there for like, a day. So his dad and Sam present him with matching vest-themed cakes to celebrate, making it even more humiliating.
Sam tries to make Flint feel better by saying
–Everyone gets humiliated on national television. It's not a big deal."
That's obviously far from true, but maybe that's what Sam likes to tell herself too, since she was humiliated on television in the first movie.
Not long after, Barb knocks on the door. The dad answers, and realizes she's the same ape from Flint's poster.
Flint is told that Chester V wants to see him, and they have a secret meeting back at Live Corp. His holograms are doing all sorts of things, none of which the real Chester V is doing. All of them are doing completely different things too, which makes no sense.
Chester shows him a clip of foodimals attacking a Live Corp base, and then trying to swim. He cites this as proof the foodimals will reach civilization and wreak havoc, even destroying the Statue of Liberty. Since the food weather was destructive to start with, Flint isn't too keen with the idea of his inventions causing more trouble.
He agrees to go alone to Swallow Falls to rid the world of foodimals by using the BS-USB to shut down the FLDSMDFR. BS-USB stands for bifurcating systematic universal stop button. What were you thinking? This is a kids movie, after all.
He says he will tell no one, so of course he immediately tells all of his friends. They are all working different jobs now.
Sam, he tells first, because she is the all-important love interest. She apparently is a complete zombie if you catch her at the wrong time.
Earl next…
Earl is working as a barista at a cupcake shop. Notice he has no facial hair in this picture. He basically makes a muscle and it grows back instantly. I wish I could change my hair style whenever I wanted with no consequences. That's a pretty cool power.
Earl's son Cal tries to convince his dad he can come by showing off a single chest hair, which is actually just a loop of icing, but his dad catches on.
Manny is now a veterinarian, and when he is recruited he leaves behind a cow giving birth…which is disturbing.
Brent is in a chicken costume, because the creators just couldn't let that joke go. When tossing his sign, it ends up stuck between his buttocks. Then he gets a tree to cover his shift and joins them.
Flint tries to convince his friends that they can travel through his grocery deliverator, but after Steve is thrown back out twitching, they decide against it.
Then Flint's dad shows up with a boat and Flint is irritated, because no one wants their dad tagging along on a secret mission. He might get hurt–or worse, get in the way!
Pretty much everyone acts like a child in this movie, with the exception of the dad and Manny, so I think having at least a couple half-responsible people on the mission would be ideal.
On the way, they sing 99 buckets of chum in the boat, which is as obnoxious as it sounds.
Then the food puns come along.
"If we all work together, this will be easy as….PIE." Cue giant slices of pie in the water.
"Oh no, we're TOAST." Cue giant slices of toast.
"This is totally BANANAS." You guessed it–giant bananas jutting out of the water like rocks.
Dear ol' dad is left on the boat because he's too old to help apparently. Don't feel too bad for him. He'll come back in later.
They reach the Live Corp base and find it is covered with cheese webs. Earl utters the predictable line
–I'm gonna cut the cheese."
Of course, there is the expected flatulence right when Earl slices through the cheese webs.
They all go in, guns at the ready. Just kidding. This is a kids movie, so I guess they were not allowed to have actual guns. Instead they point their fingers like guns in a display of mock self-defense.
Then they meet a sentient strawberry that Sam names Barry. Flint is terrified of him. I actually think strawberries with eyes are kind of freaky too.
So, Sam does what any person would do to help someone conquer their fears–shoves it in their face.
If I had a friend who was afraid of spiders and who couldn't appreciate spiders like I do, I wouldn't be a jerk and shove one in their face. How exactly would that help the situation?
Then Barry swallows the BS-USB, and the team runs after him and beholds a fascinating wonderland of foodimals.
I admit, it's kind of interesting. Except the one below. That one is nightmare fuel.
It's so beautiful apparently, it's enough to make a man cry. But not Earl. When a tear sneaks down his cheek, he demands it back into his eye. Seriously, this man has bodily superpowers beyond reason.
Barry floats away, and the team follows in a makeshift boat. As if this movie wasn't groanworthy enough, there's another food pun.
There's a leek in the boat. Get it? Cuz there's a…oh, never mind.
Then Steve has a little fight with a Shrimpanzee, because why not? Now this kind of is odd to me. This is an animal made of the dead body of another animal–dead shrimp. It's basically a mutated zombie, a form of undead. Just sayin'–the walking dead make an appearance on a kids movie and no one even seems to notice it.
Flint sees all of these foodimals are sentient and behave like normal animals. Many of them are peaceful herbivores. Yet he still thinks, lets plug in the BS-USB and kill them all, because they will obviously bring devastation to mankind.
Then they are actually given a reason to fear foodimals. A cheespider attacks them unprovoked–or so it seems. It actually recognizes the orange on their backpacks as associated with Live Corp, which it hates.
As they run away, Brent loses his chicken costume and is left wearing a diaper that's apparently not fresh. I know that's supposed to be funny, but it's pretty gross.
They are rescued only by the sudden appearance of Chester V himself riding in a helicopter. Barb came along, and her first meeting with Sam goes sour. Both claim to be scientists, but Barb insists that meteorology is basically the science of looking pretty and pointing at a map. Then Barb is even more irritated when she realizes Sam is hiding Barry in her backpack.
When asked why, Flint tries to think of a good explanation but finally settles on the truth–that Barry swallowed the BS-USB. Barb immediately pulls a knife and decides she's going to cut him open.
They are all understandably freaked out, and Barry…ejects the BS-USB along with a pile of jam. Flint picks it up, and Steve licks off the strawberry feces. I know, that's barf-worthy.
Next we get to see Tim, Flint's dad, and he is visiting his old shop where he expects to find sardines to eat. He finds the whole stash has been raided except for some that he locked away in a safe.
A bunch of dill pickles discover him and demand that he get more sardines for him. Because that's totally dill pickle behavior. Vegetables that eat meat. That's just messed up.
We switch back to the rest of the team. Brent is wearing a pair of Flint's jeans, which he refers to as "skinny jeans." He keeps using the stupid catchphrase he had when he was in advertising as Baby Brent in the first movie, saying "Uh-oh" all the time.
They find the lab and it's hanging far above their heads. The only way to get up there is a tube. When Chester V and Flint get up there, Flint almost falls and Chester catches him by his underpants.
That's unbelievably creepy. Who would reach inside someone's pants and grab their underpants to stop them from falling. That's just wrong.
Then we learn his underpants are extremely stretchy in order to be wedgie-proof. Chester V has the same kind of underwear, and it is revealed that they haven't changed their underwear since they were very young children. In Chester's case, he was three years old when he started wearing it. Ew.
Somehow Barb easily holds both up by their underwear as they dive into the lab, despite the fact that they both probably weigh at least close to her weight.
While they are down there, Chester V explains to Flint that he can't trust Brent, because once a bully, always a bully. He says:
–Stew offered by a bully is poisoned broth."
That night, we get the scene that the comment above foreshadowed–Brent literally offers Flint stew, which Flint knocks out of his hand.
They said that Flint was acting jerky. And yes, the obnoxious monkey was holding a piece of jerky. The food puns never end…
Sam and Flint have a heart-to-heart discussion, and Barb and Chester spy on them. Chester calls Barb a monkey, which he's done tons of times since the beginning of the movie. This sets up the later betrayal in a super obvious way. This is exactly what happened in the first movie. The Mayor didn't appreciate Brent and Brent switched sides. Both the Mayor and Chester V acted as father figures to Flint because his real father was incompetent. This is all starting to get super predictable.
Then Tim teaches the dill pickles how to fish, I guess so they can replace Flint who always refuses to fish with his dad.
After some more jungle travel, the rest of the team happens upon a Tacodile Supreme.
Flint rescues Barb, thus setting up a reason for Barb to betray her master later on–her enemies are kinder than her friend.
Then, to remind us that foodimals don't deserve to die, we get to see a (cute?) family of Tacodiles and find out that Mrs. Tacodile Supreme was just trying to protect her young.
When they reach the maple syrup swamp, tensions rise.
Sam tells Flint that she doesn't think they should kill all the foodimals, which seems like a legitimate opinion, but Flint doesn't think so and pretty much tells her that her opinions don't matter.
Sam and the rest of Flint's friends leave.
The feces-stained Sparkswood plan gets left behind in the syrup, picked up by Flint.
Flint, Chester V, and Barb go on without them and reach Rock Candy Mountain.
Flint uses a donut as a spyglass before heading in. Seriously, almost no one in this movie acts like an adult.
When Sam and the rest of Flint's friends go back to the base, they are attacked by the Cheespider.
In a move straight from How to Train Your Dragon, Sam places her hand on the Cheespider's head and tames it. The Cheespider flops over, and Sam says:
–I think she wants you to scratch her buns."
That sounds incredibly inappropriate. It gets even weirder when Brent says, "I like that too," and actually scratches the Cheespider's buns…
They then discover that live backwards spells evil, so Live Corp must be evil. That's pretty flimsy reasoning at best. After all, most people don't think they are evil even if what they are doing is evil. Putting it in the name on purpose is really odd. But they take this as conclusive evidence.
The thinkquanauts catch them before they can warn Flint and freeze them and the Cheespider.
Flint reaches the FLDSMDFR and is about to use the BS-USB on it before seeing it give birth to a marshmallow and deciding it's worth saving after all.
Then Flint and Chester V get into a fight that includes nose sparring and an expert throw that lands the BS-USB right into the USB port.
It turns out the USB actually is BS, because it reprograms the machine instead of destroying it.
Chester V pushes Flint, causing him to plummet to what should have been his death.
Meanwhile, Flint's friends are brought to a large Live Corp base, weakening Barb's connection to Chester V in the meantime by reminding her how he always calls her monkey.
The marshmallow creatures bring Flint to his dad in Dilltown, where he learns that his friends were taken by the Sentinels of Safety (those thinkquanauts that came to the island with Chester V.)
Barry calls out to all the foodimals. He is apparently very good at projecting his voice and at persuasion because all the foodimals within a long distance come along to help.
A lettuce pun follows that is not worth repeating, then Barry translates what Flint is saying to the other foodimals by saying exactly the same thing but in a different voice. I don't know how that would help, but it does.
Then Tim tells Flint he could launch Flint to the base where Flint's friends are being held with a big fishing rod. Now, this is just not how Tim usually thinks. Fishing is his life, but imagination is not one of the skills in his repertoire. As a result, this is extremely out of character.
Then he says how it should be a piece of cake, and big surprise, there's a piece of cake. All this food wordplay is getting old…
They make a giant vehicle that can be thrown by a makeshift giant fishing rod, and use a blueberry's bodily fluid to write on it.
Flint and Barry get launched into the Live Corp base and find the foodimals in tubes in the wall. Barry uses the Grocery Deliverator to transport them away.
Another leek in the boat joke…
Flint finds Chester V and threatens him with spray on shoes, which is a valid threat because whatever comes in those cans is unremovable. He could clog Chester's mouth or nose and kill him that way.
Here comes the soylent green part. It's an old reference–to a movie in which there is a food made out of people.
Flint's friends are revealed as they are lowered toward a grinder, and Chester V says he's going to make them into food bars.
He then explains that he's going to make the foodimals into food bars! Wait, food made out of animals–isn't that like…normal? Why is he acting like this is illegal?
Sam is so horrified, she says:
–You're a monster. Those are living creatures!"
I wonder if she ever made the connection between hamburgers and cows…
Chester V promises not to make Flint's friends into food bars if he drops the spray-on shoes. Predictably, he changes his mind as soon as Flint does and decides to turn them into meat bars anyway.
Barb is shocked, and you can see the impending betrayal written all over her little ape face.
Chester V calls her a monkey again, which is another nail in his coffin.
Chester then breaks into holograms to prevent Flint from saving his friends by grabbing the controller for the grinder.
Since the tape binding Flint's friends is police tape, Earl refuses to break it. That's probably best because if it broke, they would plummet into the grinder.
Flint proves that the fork-knife-and-spoon-inator is a murder weapon by throwing it at a Chester hologram as it stabbed rapidly. Since when was he carrying that? It's not something that you can conceal,
Flint then uses the celebrate button to spray all the holograms with glitter and paint so he can find the real Chester and steal the controls. He saves his friends.
Chester tries to escape, and when he tries to get Barb to rescue him, he calls her a monkey. Dumb movie. Betrayal time.
He falls and asks his holograms to catch him, but the fail because duh, they're holograms. Then he falls into the grinder but manages to survive by pulling his entire body into his vest. Don't ask me how that's possible. That's a superpower in itself.
Then the Cheespider eats him, all except for his clothes. Yep, he's dead. Eaten alive.
Then the FLDSMDFR is put back into commission and the foodimals and people live happily after…
There's extra stuff though. Like when Earl's fallen tear makes a blueberry grow chest hair, and the FLDSMDFR makes babies, Flint learns to fish in the most pathetic way possible, and Barb develops a crush on Steve.
Then it really is THE END.
Conclusion
So what I've learned from this movie is that eating anything that once breathed makes you a monster, and that animal abuse is supposed to be funny in certain contexts.
Just kidding–that's just what the message of the movie seemed to be. I learned nothing from this movie, and feel like a few brain cells were killed by its stupidity.
It's a kid movie, but the only reason I could see a kid liking it is because of all the cool-looking foodimals and the good animation.
I do not recommend it for any audience.