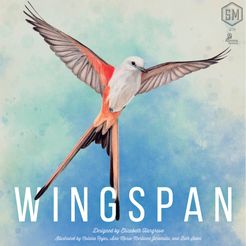 Rating: 8.58 out of 10 stars
Intro
What I hope to accomplish with my board game review is to introduce you to a new game and help you determine whether the game is a good fit for you. I will consider and rank five criteria: gameplay, design, strategy, originality, and replayability.
Description
Wingspan is a competitive game where your goal is to collect diverse species of birds on your wildlife reserve.
There are two variations of the game.
One of the variations is more "friendly," allowing all players to receive end of round points for meeting the round objective. Round objectives vary, but an example is receiving one point per bird in your water habitat.
The other variation is more competitive, and only the players who get first, second, and third place for the end of round objective get points. For example, if the objective provides points for birds in water habitats, only the players with the most birds in the water habitats would get points.
Personally, I prefer the "friendly" variation of the game because it rewards you for how much you have achieved rather than based on how you measure up to other players.
Gameplay (9 out of 10 stars)
Gameplay offers a lot of options for each player's turn even though you can only take one action per turn.
One action you can take is playing a bird card in one of your habitats by paying its food and egg costs (if applicable.)
A second action allows you to obtain food from the dice rolled in the bird feeder. If there is only one food type left in the feeder, you can reroll all the dice and then choose.
A third action allows eggs to be laid by the birds in your habitats. There are restrictions on the number of eggs each bird can lay in its nest, which vary based on the species.
A fourth action is drawing more bird cards to put in your hand. These can be played in future turns after paying the cost of the card (in food and eggs).
The resources you get from completing the second, third, or fourth action increase based on the number of birds in the habitat. You always get the resources indicated on the space to the right of the last bird you placed in that habitat.
Birds that are placed have powers that occur either when first played, when activated, or between round. They are indicated at the bottom of the card.
Furthermore, it is worthwhile to note that sometimes you can convert resources to other resources. Two of any one resource can count as one of a different resource. Also, when taking the second, third, or fourth action you can occasionally convert an egg, a food token, or a card to a different resource indicated on the space to the right of your bird.
It is also interesting that each round of the game is shorter than the last, because it puts more pressure on the players to take the most efficient actions.
Design (9.9 out of 10 stars)
Design includes two categories: art and components.
The art in Wingspan is phenomenal. The bird images remind me of the watercolor paintings by John James Audubon, though the lines are bit crisper in Wingspan.
The components are beautiful as well. I especially appreciate the colorful eggs, the custom wooden dice, and the dice tower bird house.
My only complaint is that on the end-of-round bonuses are labeled by round from right to left instead of left to right. Since English is read from left to right, I have accidentally prepared for the wrong bonus and failed to gain points as a result.
The player boards are also designed to look like worn journals on the outside.
Strategy (9 out of 10 stars)
This is a game where you can take on a variety of strategies based on your preferences. For example, you can try to broaden the species of birds on your reserve, accumulate eggs on your cards, or try to achieve your secret goals. Of course, it is best to do all of these things, but often one of these becomes the focus of your game.
Originality/Creativity (8 out of 10 stars)
The concept of a game where you are building a wildlife reserve for birds is unique. Except for Wingspan, I have not come across a game with a theme like that. The closest are maybe a few zoo-building games like Zooloretto.
The mechanisms of the game are not unique, but the combination of them was creative and provides for a unique experience overall.
Replayability (7 out of 10 stars)
Replayability is decent because of the number of cards in the deck. You get a different experience every time. Because there are a bunch of strategies, playing repeatedly can be enjoyable, allowing you to change your strategy each time.
Links
To learn more: https://boardgamegeek.com/boardgame/266192/wingspan
To learn how to play: https://www.youtube.com/watch?v=lgDgcLI2B0U&vl=en-US
If you like my content, subscribe to my newsletter!